State Farm Stadium Arizona RV Show
December 2 @ 9:00 am

-

December 5 @ 7:00 pm

PST

Free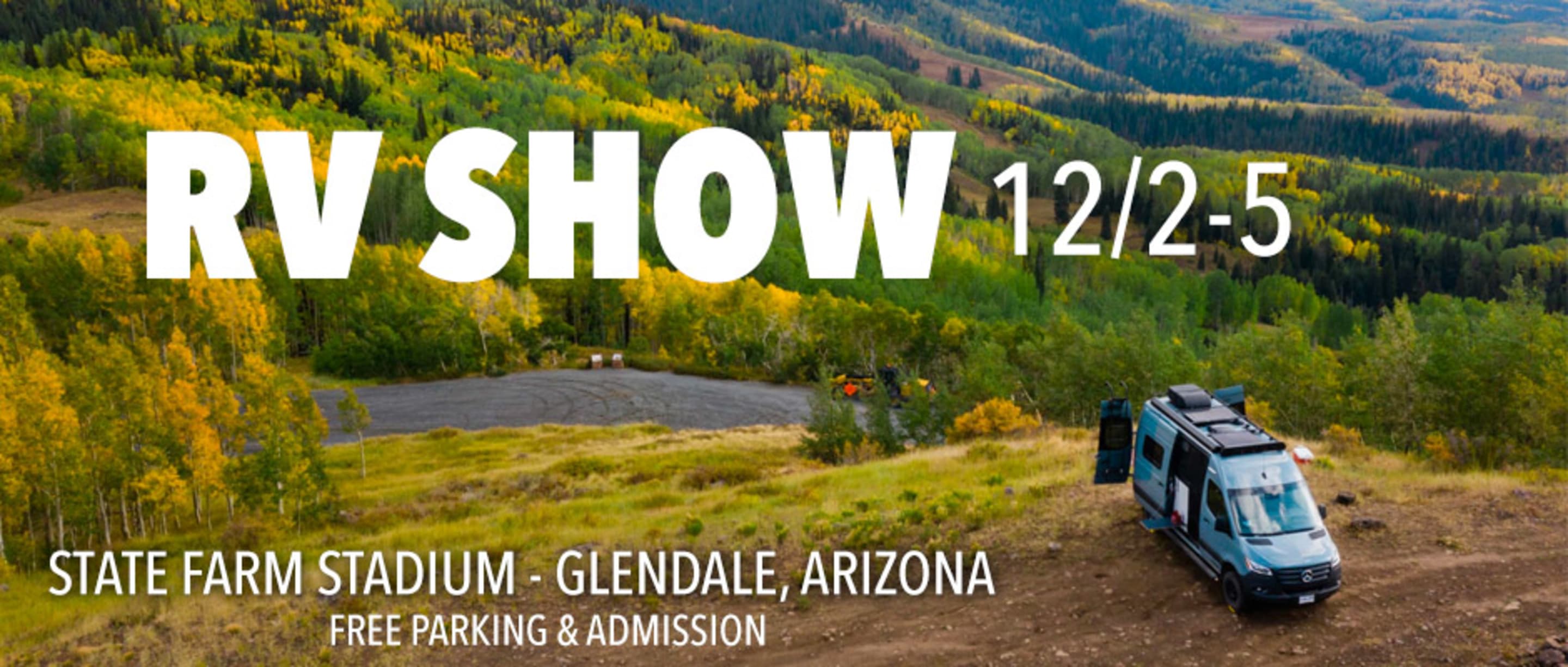 Come to the Free RV Holiday Show at State Farm Stadium!
Dates: December 2-5, 2021
Daily Show Hours: 9am to Dusk
Free Parking and Admission. Face masks are recommended for unvaccinated attendees.
FREE parking and admission. This is an outdoor show. Daily RV show hours: 9am to dusk. Bring the whole family!
Featured top-name brands may include:
Questions? Please Call: 800.269.4583
KNOW BEFORE YOU GO (STATE FARM STADIUM)
How much does it cost to park and to enter? FREE to park, no admission charged.
Where at the stadium is the event taking place? The RV Sale is taking place outside the State Farm Stadium.
How do I get there? Loop 101, exit at Cardinals Way and then north on 95th Avenue, Watch for signs directing you to the RV Show.
What are the hours of the show and sale? 9:00 am – 7:00 pm
Will there be food and beverages available to purchase? Yes.
Will face coverings be required? Face mask are recommended for unvaccinated attendees.
COVID-19 Warning and Assumption of Risk: The Arizona Sports and Tourism Authority (AZSTA), Arizona Cardinals, State Farm Stadium managed by ASM Global, La Mesa RV Center, Inc. (Yuma) and the City of Glendale, Arizona are working to take proper precautions to keep our staff and guests as safe as possible while visiting State Farm Stadium. An inherent risk of exposure to COVID-19 exists where people are together in any public place. COVID-19 is an extremely contagious disease than can cause severe illness and even death. Per the CDC, senior citizens, and people with underlying health or medical conditions are especially vulnerable. By visiting State Farm Stadium, you are voluntarily assuming all risk related to the exposure of COVID-19.
Some people are more likely than others to become severely ill such as older adults or people with medical conditions. Additionally, there may be others who need to take extra precautions because of certain other factors that put you at higher risk. For those people who are in these risk categories, the CDC recommends limiting contact with others, including avoiding large gatherings.
If you are feeling unwell, think you may have, or think you may have been exposed to Covid-19, please stay home and consider joining us later for a different event.